Where is it? When is it?
Date
Location
Time
Address
Facility
Spots Remaining
Friday, June 25th
Victoria
3:30-5:30pm
 3041 Langford Lake Road
Victoria, BC
Belmont High School Field (Turf)
4
Sunday, June 27th
Kelowna
10:00-12:00pm
 435 Hartman Rd, Kelowna, BC V1X 2M9
Rutland Fields (Turf)
22

What ages can attend?
Prospects born 2002 to 2009
PRICING?
$125 + HST
What is the value of this event?
Perform professional SOCIALLY DISTANCED combine and results shared with Tracking Football for exposure to 24/7 Sports and NCAA programs
U Sports coaches may be in attendance, coaching, and scouting future prospects
Compete for spot or improved rankings on the CFC100/CFC10 Prospect Rankings
CFC Verified Combine results added directly to your personal CFC Player Profile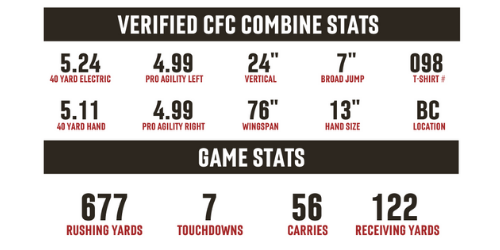 What drills do I have to prepare for?
40 yard dash
Shuttle run (T-Test/5-10-5)
Vertical jump and/or broad jump
May be requested by coaches to showcase your abilities at another position
What do I wear?
Proper footwear for outdoor field turf facility
Appropriate clothing for training
You do not need to bring your own football equipment
REFUND GUARANTEE:
If for some reason you cannot attend (combine date is adjusted, illness) we will guarantee a refund.  The only thing that we ask is that only serious attendees sign up as we have a limited number of spots (40).
FPC Alumni Lineup
CFC100 QB Nathan Rourke competed at the 2014 Fox 40 Prospect Challenge, and is currently in camp with the New York Giants competing as a wide receiver. Rourke was also drafted by the B.C. Lions in the 2020 CFL Draft after a successful career under centre at Ohio University
CFC100 OL Sage Doxtater competed at the 2014 Fox 40 Prospect Challenge, and went on to have a successful career at New Mexico State where he was a four year starter. Doxtater was recently selected by the Toronto Argonauts in the 2021 CFL Draft
CFC100 LB Jesse Luketa competed at the 2015 Fox 40 Prospect Challenge, and went on to become the top ranked CFC100 High School prospect in Canada with multiple Power 5 offers. Luketa eventually committed to Penn State where he is entering his senior year after being named team captain and starting eight games last season.
Camp Season is BACK!
Now's your chance to prove you belong with the elite prospects in Canada. Register for your chance to participate in socially distanced combine drills including the 40 yard dash, t-test, broad jump and vertical. Best part, not only will the CFC Scouting Bureau consider your combine numbers for our CFC100 High School Prospect Rankings, but we're also going to send the results to our friends at Tracking Football.
Who is Tracking Football? We're glad you asked. Our friends from the United States have become integral partners sharing our combine information with their NCAA clients, and we've already had success stories from the CFC Prospect Game last year.
On top of Tracking Football exposure, you'll also receive some direct feedback from U Sports coaches in attendance, and they're just as hungry for information as their counterparts down south.
It's time to get back on the field … Register now for one of our upcoming Fox 40 Prospect Combines!
SAFETY MEASURES:
(a) We encourage all players to wear mouth guards 
(b) If you have had surgery or a concussion in the past 12 months we need a clearance note from a doctor to participate
(c) All events have athletic trainers present 
(d) Concussion protocol and education guided by PARACHUTE and CDC 
(e) ROLES & RESPONSIBILITIES OF PARENTS AND ATHLETES
(f) All Canadafootballchat.com events use certified, professional coaches and follow CFC Harassment and Abuse policies
(g) All Canadafootballchat.com events are properly insured via Lloyds of London through All Sports Insurance Marketing
Past Fox 40 Prospect Challenge (FPC) links:
2020 links – CENTRAL / WEST COAST